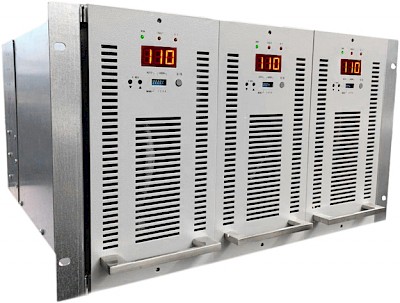 A 19" rackmounting case can be provided to mount the REC‑MT into a cabinet.
Either two or three modules can be fitted per rack, depending on the chosen model. Each unit is suitable as a standalone DC power source or as a dedicated battery charger and is ideal for n+1 redundant applications.
If you don't have a rack available, then an optional 5mm plated steel bracket allows the REC-MT to be wallmounted with either its side or rear face on the wall. This allows users to still have access to the module without taking the bracket off the wall. Brackets are only available for models with outputs of 110VDC/20A or 220VDC/10A.