When the Bath Zero Emissions Motorcycles team approached ETPS, they needed a power solution to help get their season on track.

Many of the calendar's race circuits only have a single phase mains supply for battery chargers. However, commercially available sources with a single phase input are only usually available up to 3kW. This increases the time required to charge a battery pack. As a result, the number of times a team can test their bike before a race is reduced.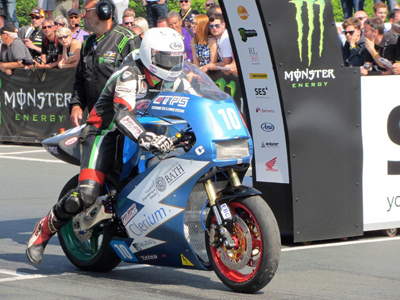 A special 5kW LAB-HP with a single phase input was engineered by ETPS. The unit's 800VDC nominal output meant that it could comfortably charge the bike's high voltage battery pack. To prevent transit damage between races, the DC Source was fitted into a flight case with shock and vibration mounts.
Louis Flanagan, manager of the team's inaugural season, added "ETPS provided us with the perfect solution. The power supply allowed us to maximise pre-race test time within track restrictions".
"Configuring an electric bike was a new experience for many of the team members. So it was ideal to have a reliable mobile charging solution while we were making last minute tweaks to optimise the bike's performance".
The team is made up of engineering  students from the University of Bath. They design, build and race electric motorcycles in the Isle of Man TT Zero and Moto E series races.