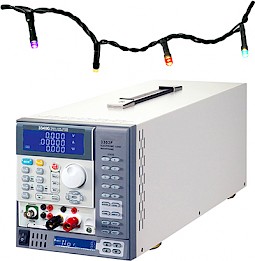 The ELP-3340G is dual range DC load which features a dedicated LED simulation mode, allowing users to test festive LED drivers and PSUs.

Real world conditions, such as those experienced by LED Christmas tree lights, can be simulated by switching between current levels and adjusting rise and fall times.

Each unit features inbuilt dimming control signal for PWM dimming testing, as well as the ability to simulate LED forward bias voltage (Vd) and resistance (Rd).

Unfortunately Rudolph's nose cannot be simulated.