When the School of Engineering in the University of Edinburgh was looking to expand their power lab capabilities, they needed to source a power system that generated results.

Legislative and social pressures are finally seeing the tide turn for renewables, with the majority of the world's countries committing to strict emissions targets. Advances in low-carbon technologies are seen as a key pillar to achieving net-zero CO2 emissions by the second half of the century, by making clean energy generation cheap and efficient.
The Institute for Energy Systems within the School of Engineering is at the forefront of this energy revolution. Within the Institute's Offshore Renewable Energy and Electrical Power Conversion themes there is a strong focus on the design and development of next generation power-electronic converters and electrical machines for renewable energy. Researchers within the Institute's Power Systems theme also investigate how renewable resources interact with power system stability, protection, and quality.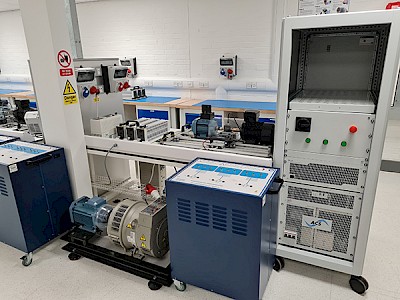 Experiments into devices and systems of all sizes within these themes are conducted by the institute: from full power-electronic converter design and power-systems integration studies, to performance testing of novel light-weight modular generators and motor systems for renewable applications.
ETPS supplied an EAC-ACS-4Q four quadrant module to the School of Engineering. Each of the power-system's three phases are individually programmable to sink or source either AC or DC power. When operating as a sink any excess energy is recycled back to the grid.
Asked on the importance of the power system, Lecturer Dr Paul Judge explained "the EAC-ACS-4Q is a key piece of hardware. It will enable us to bring together experimental work in research areas such as power-electronics, electrical machines and smart grids in one lab. It will also enable us to expand our research into new areas such as automotive and aerospace."