Do you have an outstanding programmable power requirement which you'd like to talk over face to face? Members of our team will be on hand on stand C4-309 this year's CENEX Low Carbon Vehicle Event to discuss any queries which you have.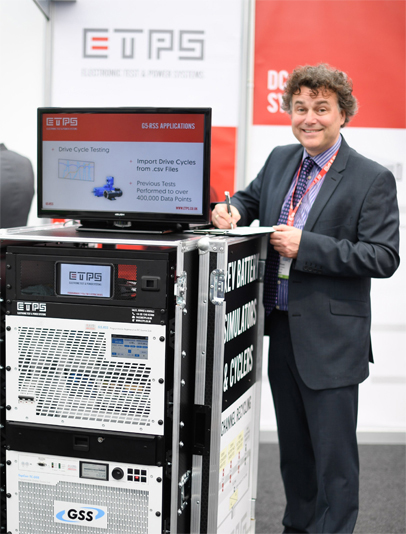 We will be showcasing their new low voltage/high current G5-RSS-HC bidirectional power systems. Modules are now available from SELV models starting at 60V/338A, ranging up to 5MW at tens of thousands of amps. This is addition to the existing high voltage range, where outputs up to 3000V are possible into the megawatt range.
With two current ranges for high accuracy, the G5-RSS-HC is ideal for cycling energy storage devices. The module's ultra-fast dynamics with switchable capacitance also allows accurate simulation of batteries and capacitors. A current step between 90% sourcing to 90% sinking can be as quick as 50us, enabling high speed drives to be supplied. An embedded function generator enables V/I and V/W relationships to be programmed against time, to accurately simulate a discharging fuel cell.
Each power dense module has an extensive feature set which includes programmable PI parameters, programmable ripple, and an inbuilt 8 channel recording scope. Adjustable power and resistance limits are provided. A high speed 1kHz CAN interface is available.
Modules can be arranged in series, parallel or matrix configurations. Unusually, units can also be connected in master/slave with different nominal values. For example, a 36kW/500V module will connect in parallel with a 54kW/500V unit to provide 90kW/500V. Multi-module systems based around a centre tapped earth are possible, creating a +/- voltage output. Ideal for testing power systems used in ships and aircrafts.
Besides bidirectional systems the ETPS product range includes new and rental DC & AC sources, electronic loads and battery chargers/dischargers. Application specific equipment is also available for battery emulation, cranking curve simulation, battery cycling, V2G testing, electric drive testing and fuel cell loading plus many more.
The event takes place at the Millbrook Proving Ground on the 6th and 7th September. It is widely regarded as the UK's premier showcase for innovations in hybrid and electric vehicles. The exhibition is free to attend, if you haven't already registered you can do so here.
We look forward to meeting you on stand C4-309!