Do you regularly need to research or emulate energy storage devices? Perhaps you need to accurately test PV inverters? A selection of application GUIs have been released for our bidirectional G5-RSS and unidirectional G5-SOURCE DC power systems.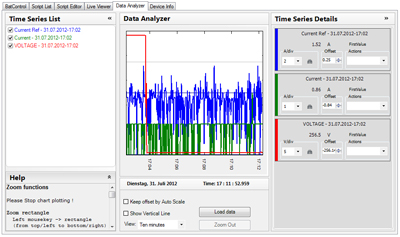 An application GUI can be used to program hardware to replicate real world behaviour of a power component. This allows specific sections of a circuit to be isolated and researched. Hard to replicate conditions, such as cranking curve from a cold start, can also be programmed and repeated.
Using a GUI allows a great deal of control, monitoring and reporting to be done remotely. Other advantages include reduced operator errors and preparation time, as well as increased reproducibility and elimination of result variations.
Details of the new releases can be found below:
Electric Drive and Battery Cycling
Drive cycle tests can be implemented using BatControl. Previous data obtained from a test track can be imported and recreated, allowing the power system to simulate a real world driving test inside a lab environment. Battery and capacitor charge/discharge profiles can also be implemented through the GUI.
Capacitor Simulation
The electrical characteristics of a real capacitor stack can be emulated when CapSim is installed with the power systems. Number of cells in series/parallel, state of charge, cell cut off limits, dynamic capacitance and resistance are programmable.
Solar Array Simulation
SASControl software has all EN 50530 tests pre-installed. The GUI allows users to edit irradiance, temperature and amplitude values. Previous tests have been conducted using over 400,000 individual data points, with more possible.
To find out how one of our application GUIs can help drive your research, contact us today.