Do you regularly need to reconfigure your test cells? Are you tired of having to move around heavy programmable power equipment onsite? Then our flight case integrations provide a simple and convenient solution.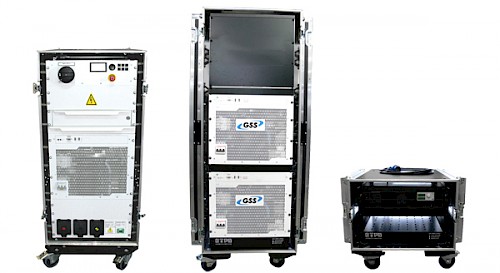 Having your programmable power system mounted into a flight case is often advantageous when several departments or test cells share the same equipment. Door hangers and load bearing shelves are fitted for convenience. Where companies regularly need to move equipment to different sites, we can provide shock and vibration mounts to mitigate any potential transit damage.
Multiple power systems can be fitted into the same flight case. For example, you might want to integrate a separate DC source and DC load into the same cabinet when performing cycling tests on a battery pack. Existing ETPS systems can be retrospectively integrated into new flight cases where requested. Flight cases can also be sized to account for future expansion.
More comprehensive integrations are possible on request. You could have a full electrical integration with integrated isometers and the DC taken to front panel sockets with cable sets. Protective covers can also be provided for the input and output terminals. 
To get a quote or find out more information contact us today.