With hopes of propelling themselves into the history books, Bloodhound LSR needed a power system to streamline their workshop testing.

The Bloodhound LSR (Land Speed Record) team will be attempting to set a new world record. Their aim is to thrust the jet and rocket powered car to speeds north of 800mph. The current record set in 1997 stands at 763.035mph.
A zero-emissions rocket fuelled by hydrogen peroxide will be used for the attempt. It's hoped that the next generation of low carbon engineers will be inspired in the process.
Impressive statistics of the vehicle include the aluminium wheels reaching 10,200 RPM at full speed. The inside of the rocket propulsion system will soar to temperatures as high as 3,000°C.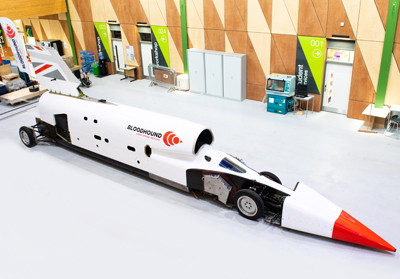 ETPS has a track record of powering the world's leading engineering projects. The team was supplied with a special 400Hz three phase AC source.
Milton Roach, Systems Technician for the Bloodhound LSR, explained "The power system allows us to test the fuel pumps in the jet tanks. Normally they'd be powered by the Eurofighter Typhoon jet itself. However this isn't practical during the workshop testing and development phase."
We don't want to have to run the engine every time we need to run the fuel pumps for whatever we're testing. So this power system allows us to do this.